Conco's state-of-the-art rotary technology scours tubes clean even in tight and limited access locations.
Does your heat exchanger have thick wall scale or tenacious deposits that may require the additional power of rotary tube cleaning? Our crews can include the Excaliber Pneumatic Flex Drive Tube Cleaning System for additional cleaning power or to finish the job with a polishing for the most sensitive of nondestructive testing.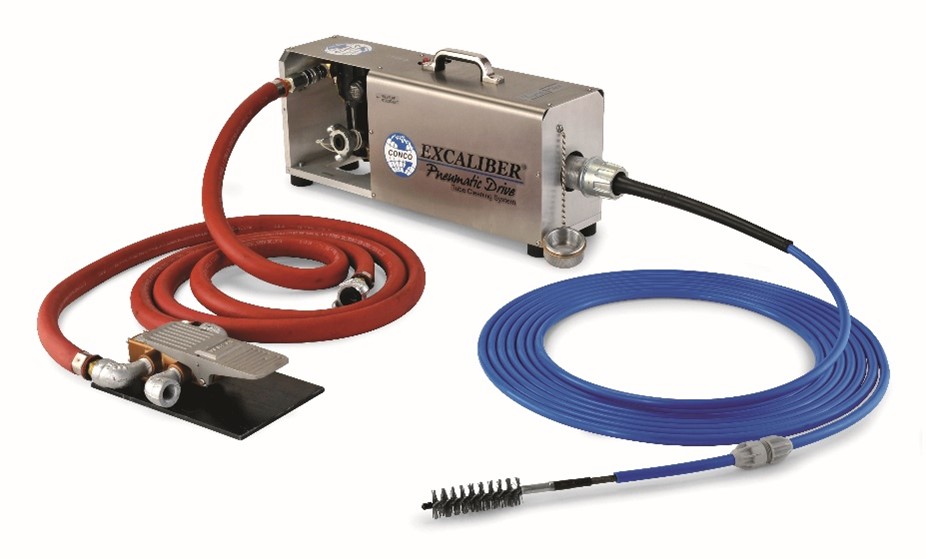 Built ProSeries™ tough, the Excaliber incorporates rotary tube cleaning action with a water flush to remove tough deposits in condenser and  heat exchanger tubes with a diameter of 3/8" and up (request more information for specific sizing). No electricity is required. This powerful technology uses only plant air and little to no water to operate and is safe to use in any location. Armed with the proper tool, the unit will scour off deposits and flush tubes clean in a single, efficient operation.
Excaliber can be configured to tackle almost any job. With a wide range of brushes and tools for soft and hard deposits, the Excaliber is an extremely versatile tube cleaning system, making it our most common application.
The Excaliber is ideal for cleaning:
Sulfur Recovery Units

Boilers

Lube Oil Coolers

Exciter Coolers

Hydrogen Coolers

Seal Oil Coolers

Stator Coolers

Chemical Processing Units
How It Works
Equipped with a 5.25 HP motor, the Excaliber gives Conco crews the torque needed to scour away any deposit. This compact, portable system features a TruFit™ brush mounted to the tip of a flexible shaft rotating at up to 2,500 RPM to loosen deposits. As the flexible shaft rotates, water is pumped through the shaft casing to the cleaning tool, flushing away debris.

Features
Safe low-pressure water (30 to 125 PSI)
Low volume water flush (3 to 7 GPM)
Foot pedal to control shaft rotation and water flow
Small footprint (50 to 100 sq. ft.)