When you need to seal off a leaking or damaged tube, Conco is your one-stop source.
If your heat exchanger tubes need to be plugged, call Conco. Different situations call for different types of plugs, and Conco has a full array of plugs in a variety of styles and materials to select from. Need a plug that can handle over 1,000 PSI? We've got you covered. Pulled a tube and now the tubesheet needs plugging? We've got a plug for that too. High temperatures an issue, not for Conco plugs.
Conco has a plug for every application. Our technicians are experts in diagnosing your needs and installing the best plug to solve your problem. Whether you need a temporary or permanent plug, count on Conco to get the job done right.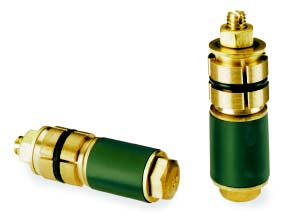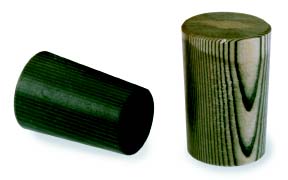 A plug for every type of tube
When you need to plug off leaking tubes in heat exchangers, look no further than Conco. Our crews can accommodate any tube plugging application. Conco offers a full range of plug sizes, styles and materials to match your needs.
Our inventory includes High Confidence Tube Plugs, tested to over 1,000 PSI under a wide range of temperature and vibration conditions. Our line of expanding tube plugs can be used for temporary or permanent plugging. While our EX-3 Expanding Tube Plugs feature an oversized washer to prevent them from being pulled into the tube by the vacuum of the unit, our EX-4 Tube Plugs are designed to be placed inside the tube, recessed just below the tube sheet. Then there are our EX-F Tube Plugs, offering two separate gripping and sealing designs in one plug and sealing to 400 PSI.

Need a temporary or emergency plug, then check out Conco Fiber Tube Plugs. These plugs install easily, expand when wet and will not damage tube sheets. They can be used in temperatures up to 230° F.
Type-1 Pin, and Type-2 Pin and Collar Tube Plugs come standard in titanium, stainless steel, brass and bronze. They seal at high temperatures, allowing continued use of the unit without major overhaul. They are ideal for use in the tubesheet where tube samples have been extracted.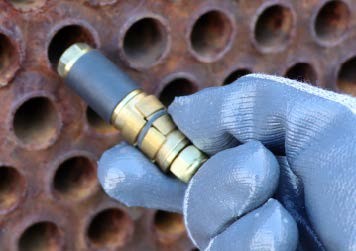 Require Pop-a-plug in your unit? Conco crews can provide Pop-a-plug installation services.